The timeless Ray-Ban eyepiece model! - Do you already know what model we're talking about?
2019-10-30
This film production was a breakthrough not only for young Tom, but also for Aviator glasses by Ray-Ban. The first design of the model was created in 1930 for the Air Force of the American Army.
Its unique shape with lenses resembling water droplets was primarily intended to protect pilots from reflections of light at high altitudes. To this day, it is still produced in exactly the same form.
The story of how the first Ray-Ban glasses were made begins with John Arthur Macready, an American pilot and aviator, as well as a lieutenant in the American Air Corps army, who served both during World War I and World War II. At that time, at the beginning of the 20th century, flight was still a new invention, but the technology of aircraft evolved very quickly and the new aircraft allowed pilots to fly higher and higher. John was a great pilot but after one of his flights in 1929 he started to complain about headaches and nausea that caused sunshine at high altitudes.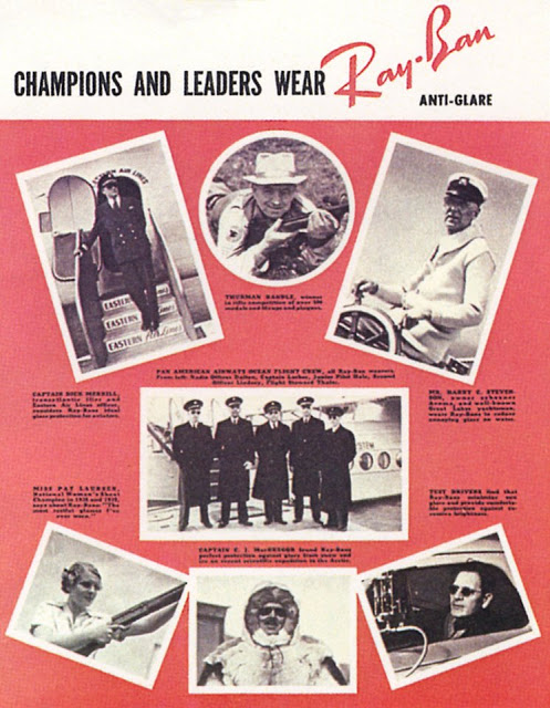 In 1936 John A. Macready turned to John Bausch and Henry Lomb with the idea of creating special glasses for pilots. The first prototype appeared very quickly and in 1937 it was already patented as "Ray-Ban Aviators";. In 1938 the first advertisement for new sunglasses was created and published. These glasses have become accessible to everyone, not just pilots.


Ray-Ban advertisementon ("Von Lengerke & Antoine" spring and summer catalog, 1939)


As time went by, more and more models started to appear. Already in the 1960s, Ray-Ban glasses wore the biggest movie stars from Humphrey Bogart, James Dean and Marlin Brando.

To this day, Ray-Ban glasses remain one of the most recognizable and popular sunglasses brands in the world.


We invite you to our shops and our website where you will find your favourite Aviator model in a unique price and in new, different colors.